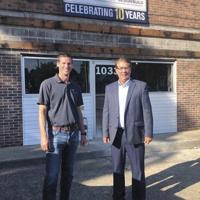 Keymark Construction of Terre Haute celebrates its 10th anniversary | Economic news
Northside Keymark Construction celebrates 10 years in business doing what it does best…construction. However, the construction is not for a new business or a new home, but for Keymark itself. After more than six years in the former offices of Jiffy Mini Mart on Lafayette Avenue, the company is modernizing its offices and building exterior. The new look and enhancements mark the company's anniversary, while ushering in the company's future.
"It was probably renovated in the early 80s, so it was time for us to put our mark on it, it was time for us to improve this area with the renovation of the building," explains owner Jacob Hellmann. "Inside there will be better light for our employees, outside there will be better curb appeal… We have worked on so many other projects that it was time for us to do our part and take care of our building and our employees."
On Thursday, Mayor Duke Bennett stopped by the site for a quick tour and to congratulate Hellmann on his company's milestone.
"I love hearing about local businesses doing well and Keymark is a great example of that," Bennett said during the visit. "They have good quality people working here doing great projects in the community. They've worked with the city on a number of things and it's rewarding to see a business last 10 years. This may not seem like a very long time to some, but the truth is that small businesses can struggle, especially in these times, but this one is thriving in our community.
Hellmann and his wife Stefanie have grown the business exponentially since their official incorporation on January 11, 2011. A native of Terre Haute, Hellmann attended Terre Haute South Vigo High School and then the University of Dayton. After gaining professional experience, he chose to return "home" and open a business. The couple, both engineering graduates, launched Keymark from a small office.
"My wife and I saw an opportunity for a construction company, so it all started with us working in a one-room office, just the two of us," says Hellmann. "We have worked hard, grown the business and built commercial and residential structures throughout the Wabash Valley."
The company now employs 13 full-time people. Keymark's summary of local projects include The Sycamore Winery, Union Health Eastside, Dunkin' Donuts Terre Haute, Indiana State University's Pi Kappa Alpha Fraternity Residences and Education Center, and many more.
Not only is the company resume impressive, but the things they do outside of work. Keymark commits time, supplies, and labor to a "day of service." Employees volunteer for projects including creating a structure for the new 12 Points Farmers Market and others on the campus of Saint Mary-of-the-Woods College.
Now taking some time off to focus on his own building, Hellmann estimates that the construction of his offices will be completed in just a few months. He says he's excited to show the work they've done on the building to clients and his own family. The couple have four children: Isaiah, Noah, Clara and Olivia. Middle and elementary school students might one day enter the family business — or not — says Hellmann. The importance, he explains, is more about working hard and with integrity, as Keymark has been doing for the past 10 years.
"I consider what we teach our children is how to work, whether it's in construction, accounting, whatever, we teach them how to work and what it means," he says. "It's fun to show them the buildings we've built, but it's more about teaching them that, one, there's nothing wrong with working with your hands and two, what a day's work looks like. honest work."